What is Alidropship? I recently discovered, thousands of people are searching on the internet for a perfect answer to this particular question. And, I believe the exact answer can only be disclosed upon delivering an Alidropship product review because the actual answer is hidden behind the functions of Alidropship product.
In the recent era, I have met many people who are interested to build up an e-commerce store, but due to lack of proper guidance or low capital, they often get back. Few people even waste money due to unconsiousness. Are you one of those people? Have you tried to build up your own e-commerce store? Or, you are interested but never dare to step in?
Whatever you did, I guess, you are interested in building e-commerce, otherwise, you shouldn't be here right now.
Are you familiar with the term dropshipping?
May be or may not be, but I must let you know that, dropshipping is a simpler and hassle-free version of conventional e-commerce stores. And today I am going to introduce one such company that can help you to build up a successful e-commerce store without much difficulty.
It is Alidropship, and this company offers you two ways to build an e-commerce store, (1) build your own store in your own hand using their plugin, (2) Buy a ready to use custom store from their platform.
So, let's start without wasting time.
Author's appearance in e-commerce: A short introduction
In the online world, I earn from two sources,
Affiliate Marketing
e-Commerce/ dropshipping web stores
My appearance in the online world happened with affiliate marketing which I learned from a very reliable source. The platform led me to such a financial position that I never needed to look behind further. After my initial success with affiliate marketing, I decided to build an e-commerce store with one of my favorite niches.
It is never easy to build up a conventional e-commerce business by your own effort. It needs a lot of effort, money, and manpower. It is needless to say each and every success comes with a lot of effort. Nothing is easy in this world, and whoever invites you to join some easy eaning source or a get-rich-quick program, that is a scam for sure (as per my personal past experiences).
So, considering "hard work" as a general, the other factors are not easy to overcome. It needs a lot of money to build up e-commerce because you need a big collection of products and a safe place to store those. You also need a lot of manpower to maintain the store, customers, website, inventory, packing, etc. Additionally, you need to keep in mind about shipping and proper delivery of the products. You need to pay in every step.
To be honest I personally didn't have a big problem with money because of my regular bulk earning from my other websites related to affiliate marketing. But I was searching for an alternative way, such as maintaining everything in a hassle-free way right from the comfort of home.
My search was ended when I discovered Alidropship, the best match for my requirement.
Author's journey with Alidropship
I am presently operating 3 successful e-commerce websites in different niches, one of them was built by myself using Alidropship plugin and other 2 are Alidropship custom stores. That's why I have very in-depth experience of the platform and its products and it is my great pleasure to share these all with you today.
When I started my first drop shipping website I was really inexperienced about building e-commerce, but their ready-to-use custom store let me get my first sale within just 27 days. I started to work hard further and within the next five months, my website managed huge traffic and sales. It is obvious that my previous knowledge about blogging and SEO (search engine optimization) helped me a lot, but there is no way to ignore the efficiency of Alidropship products.
After gathering experience, I further purchased Alidropship plugin and converted one of my niche website to e-commerce. Recently I started my third store which was necessary due to the demand of my existing customers. It is new and hence not much successful one till now, but I am hopeful about this one too.
If you are looking to start a general e-commerce store, you should have a very good financial background and high potential to work on the field as well as in the office. And if you are willing to start a very successful e-commerce store with much less struggle like me then you should continue reading below to explore Alidropship.
What is Alidropship? – A General Overview
Alidropship is a gateway to manage and build an e-commerce website in a quick and easy way. Hundreds of people throughout the globe have chosen highly efficient Alidropship plugins and custom web stores to improve or build up their e-commerce business. However, I am one of them as well.
There are various Alidropship products for beginners as well as experienced within the platform; you can choose any of those as per your requirements.
Alidropship business model is extremely simple. This is very much like e-commerce, and popularly known as dropshipping business. Whatever you purchase, a custom store or an Alidropship plugin, the facilities of the dropshipping business model remains unaltered.
What is dropshipping?
You'll have an online store on a specific niche, import products to your webstore in wholesale price, change to prices as per your choice which will be shown by your visitors. Your customers will visit your webstore, they will choose a product there and place an order. Then you have to forward the order to sellers, pay them at a wholesale rate, and your job is done. Now just calculate your profit and deal with the other customers. Sellers will complete the further tasks, such as packing, shipping, inventory maintaining and updating tracking info.
If you run conventional e-commerce, you have to take responsibilities for all these jobs, and simply you need huge manpower and money (as I discussed earlier). This is the basic difference between dropshipping and conventional e-commerce. Among several other dropshipping companies, Alidropship the biggest and most popular one.
As per my opinion, a custom store is the most well-matched for the newcomers and for those people who are busy in other activities (Busy to operate other businesses). I personally bought my third one, a custom store, because of my extremely busy schedule.
By installing AliDropship plugin you can have full control over the business, which means you'll have absolute freedom to manage your store. If you use Alidropship woo version, you'll have more freedom, because you can add your own products there along with imported products from Alidropship. Many e-commerce business persons use Alidropship woo version to maintain stock, besides their own products.
I am coming to more details discussion later.
The founders of Alidropship
Alidropship company run by the incorporation of a big team. In fact, such an innovative business can not be standing straight without the perfect team. Yaroslav Nevsky and Ilya Dolgikh are the founders of this company. I have never been connected to Ilya, but I had several conversations with Yaroslav who is really a very polite and helpful person. He solved several problems after I built up my first e-commerce website with Alidropship.
I must say a few words about Alidropship team, especially the customer care. They are very helpful and most of them can solve any problem instantly. The only negative, they don't have 24×7 support, rather they'll continuously solve your problem during office hours only, but not before or after.
Alidropship Products: The building options
As I mentioned earlier, in Alidropship you have two options to create an e-commerce store. (1) Ready to use custom store and (2) Alidropship plugin for WordPress websites. Other than these major products, Alidropship platform also contains many other useful products and services inside. Let's have a tour.
(1) Ready-to-use Custom Store:
The expert developer team of Alidropship creates a unique web store according to your niche. You'll become the owner of that independent dropshipping website which will be hosted within Alidropship platform.
What are the things and facilities included in an Alidropship custom store?
Niche research: They will select a high potential niche for your long run web store as per your interests.
Premium domain name: Their chosen high potential search engine friendly domain help to grow your business in an easy manner.
Unique appearance: The developer team will build a website with a professional look which includes a custom logo, header image, icon, favicon, banner, everything.
Responsive design: Your website will be responsive for all types of devices, such as desktop, laptop, mobile or tablet.
Alidropship plugin: The Alidropship plugin will be included in your custom websites so that you can select any products from Aliexpress as per your niche and import them to your website.
Ready to sell products: When you get your custom store in hand there 50-200 product (depending on the plan) will be included there for immediate sale.
Unlimited orders: You can process unlimited monthly order, there are no bindings.
Real-time order tracking: Your customer can track their order once those will be shipped.
Payment gateway: Ready custom store includes PayPal and credit card gateway facility. You can include any credit card gateway which is supported by your country, there are many options.
SEO: Manual and automatic options to optimize the search engine help your website to rank well in Google and thus increases traffic.
Social advantages: The developer team will create a social page for your website and also integrate social buttons and widgets on your website.
Promo video: Video promotion will be included if you buy the highest budget website ($899).
Social media promo tool: This tool automates your products to social platforms. Similar to the last one this tool will also be included if you purchase a custom store of the highest budget.
You need to spend a one time fee for creating a custom store which is categorized into three segments with gradually increasing facilities, $299, $499 and $899. It is needless to say that you can grab the highest facility if you choose the most expensive one.
(2) Alidropship Plugin:
Now come to the cost-effective option. Price of the Alidropship Plugin is relatively much low, that is only $89, and this one works fine in a WordPress website. But first be confirmed, can you build up an e-commerce website by yourself? Do you have some past experience in developing a website? Your targeted traffic will not be there if your website doesn't have a professional look and if it is not easy to handle. Additionally, you have to take deep care about SEO, social and other facts.
If you are familiar with these jobs I would suggest you go for Alidropship plugin. The Plugin comes in two versions:
Alidropship Plugin: Directly works with Alidropship platform and Alidropship themes.
Alidropship Woo plugin: If Woo-commerce is pre-installed to your website or you are intended to incorporate Woo-commerce plugin to your website, then this one is perfect for you. This plugin works with Woo-commerce plugin and Alidropship Woo themes.
In $89 you'll get both plugins together (you can not buy either plugin). You cannot activate both of them at a time. So before installation, you must decide which one is suitable for your requirement.
If you purchase Alidropship plugin to build up your WordPress based webstore by your own, you have to maintain and focus on niche selection, keyword research, domain, web appearance, website design, social and SEO by yourself. Other facilities like importing products from Aliexpress, payment gateway, order tracking, etc. will be provided by the plugin itself.
There is a limitation in product import. In an Alidropship plugin-based self-made WordPress website you can import up to 10000 products at a time, which is sufficient I think. In an Alidropship Woo version website, it is suggested to import up to 500 products at a time to avoid difficulties. If you are building a specific niche website, "500 products" is not bad at all.
How Alidropship plugin imports products in a self-made WordPress website?

This is a really impressive technology. The Alidropship plugin installed to your WordPress website will link up with Aliexpress via a media, that is Alidropship Google Chrome extension. So, you have to install this free extension to your desktop. Once the extension authorizes your website you will be allowed to import products from Aliexpress, and not only the products but you can also import everything about the product, such as title, description, images, attributes, review everything. But it is suggested to create the title and the descriptions in your own language.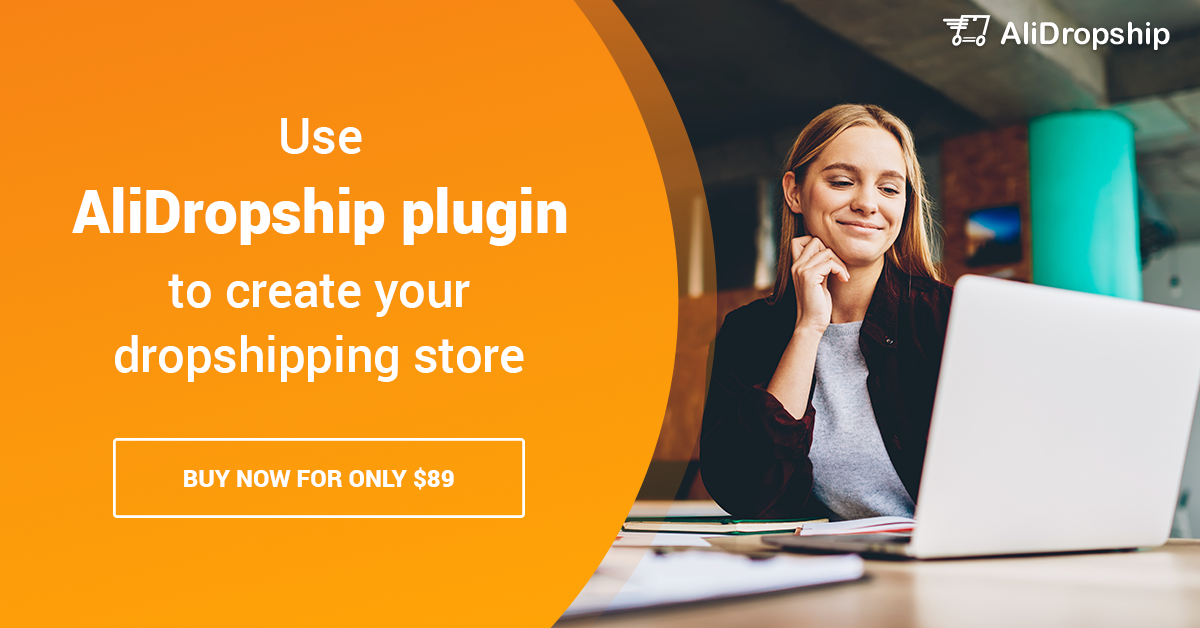 (3) Paid Add-Ons
There are several Add ons within Alidropship platform which helps to increase your sale. You can purchase those add ons separately if you wish to utilize those.
Countdown Timer: Encourage your visitors to complete their purchase as early as possible.
Facebook Business: Creat Product catalog to increase your Facebook market campaign.
Recent Sales Pop-up: Engage visitors by showing what other people have just bought from your web store; makes your store busy-looking.
Google Merchant: Upload your store catalog to Google; A great way to attract visitors.
Upsell: When your customers buy something from your store, encourage them to buy related products using this plugin.
Social Rabbit: The ultimate tool for auto-run and auto-promote your web store on major social networks like Facebook, Twitter, Instagram, and Pinterest, and boost your social traffic.
(4) Paid services
There are several paid services available within Alidropship platform and you can choose any one of those as per your requirements. The services are like, Add on set up, AliDropship Plugin Setup, Social Rabbit Plugin Setup, Custom Design, Custom Development, Social Media Setup, SEO Starter Pack, SEO Copywriting, Promo Video Creation, Email Marketing Setup, Hosting, Hosting Setup & Support, etc. Few services cost one time, few are on an hourly basis and few services are a yearly basis.
Things I like about Alidropship Products
During my long experience with Alidropshop and it's products I clearly defined the positives and negatives of the platform. Let's discover the positives first.
How many products you can keep in a conventional start-up webstore? And how much are you ready to pay for it? Suppose its a clothing store, and you must have to keep at least 500 clothes for sell. So, calculate how much you have to spend buying those clothes. Additionally, you have to take a photo of each and every clothes with models, upload them to your website, write a description, inventory maintain and many other jobs. Don't forget to include to costs of building the website and manpower.
Alidropsip custom store and Alidropship plugin provide you a great facility to import any product from a huge collection of Aliexpress, absolutely free of cost. That means there is an investment to buy products and rent/buy a place to store them. Facilities do not end here only, rather you are getting readymade photos, descriptions, and even customers review for totally free.
Isn't this a great positive to start e-commerce? For me it's amazing!
After importing the products in your website your main job is to maintain your website, that means work for driving traffic to your website for more and more sale (few of Alidropship paid add-ons even capable to promote your products automatically). Once you get an order to your website from a customer, just place it to Aliexpress, pay the wholesale price to the seller and contact the seller (preferably). You don't need to think about further process. The seller will do everything for your customer, packing, shipping, updating. Even you don't need to maintain any product inventory. Leave it to the seller, you'll get updates automatically.
Where I ended the last line, I am starting right from the same. The system is fully automated! Your website will automatically get updated about the price change, stock change, order fulfilling, tracking details, etc. So much automation really makes your job easy, and this particular features help you to run multiple websites at a time or spend your free time with family or traveling the world freely (but you should have to response your customers regularly, it's your business).
Getting a ready custom store is fine, you paid for a custom e-commerce store and you get it. This is very professional. But experiencing the beauty of Alidropship plugin really great! It can turn your normal WordPress website into an e-commerce store; not only an e-commerce store but it is actually a fully functional dropshipping store! Pretty Amazing!
If you have a niche blogging or affiliate marketing website and you want to turn it into fully functional e-commerce, I think there is no better option than Alidropship plugin. Again if you have a pre-built e-commerce store with a few products, and certainly you felt the website should contain more products, you have a great option to install Alidropship Woo plugin to your WordPress backend and import related products. Woo-commerce supported Alidropship plugin is definitely a huge plus.
Alidropship plugin contains another facility, which is applicable in all three versions of dropshipping stores, (1) Alidropship custom store, (2) Alidropship WordPress store and (3) Alidropship Woo WordPress store. When you are importing any product from Aliexpress using Alidropship plugin you can customize the product description and title by yourself, which are essential for SEO. For each and every product you have to carry keyword research for better ranking in Google and other search engines followed by high organic search.
But the facility doesn't end up here. In addition, you can edit any Aliexpress product image by in-built image editor.
Are you wondering why image editor is required?

When a product uses a brand name in their image that is not suitable for your website, because nobody loves to promote other brands within their own brand (your website is your brand). In that situation, you can simply remove the name using image editor. Alternatively, you can edit a great offer sticker on the product image.
Customers often get demoralized with the excess shipping charge and return back from the check out page without paying. In Alidrpship service most of the products are eligible for free shipping in many countries, so your customers are no more get angry.
Many products in Alidropship platform are eligible for faster e-packet service. Your customers receive their order within a very short time span if this service is available in the respective country.
You can create a custom coupon code to provide an extra offer to your customers.
Customers are allowed to rate and review the products on your website, which is a great feature.
Multiple payment gateways are supported by Alidropship plugin.
All-in-One Dashboard tells you about the detailed statistics of your website.
Customer support is very good within office hours (Monday to Friday).

Things I don't like about Alidropship products
In this Alidropship products review, I must reach out to you with complete information. Besides the above-said positives, I also explore all the negatives I experienced during my operation.
Maybe, you can get a few sales within 1-2 months after building a dropshipping store with Alidropship, but you must have to work hard to get a massive sell within the next 5-6 months.
You need to add 5 or more products every day on your website to keep it highly active. After then, you have to work with each and every product, creating unique contents in the product description section, and introducing high traffic low competition keywords in the product title and description.
Additionally, you have to check every images and SEO metadata for better organic search. You have the option to create paid advertisements for your products but there is no alternative to search engine optimization (SEO) for creating a long run business.
Finally, you have to create blogs for the products on your website to attract more visitor through organic search.
Overall you have to put a lot of effort initially to build up your dropshipping e-commerce business. In fact, I personally believe every true success comes from hard word and dedication. So, I managed this struggle somehow.
The cost of basic Alidropship plugin is low, but you should buy this if you have some idea to build e-commerce by yourself. Building a professional web store using Alidropship plugin on a WordPress website needs much time and effort. However, for the newcomers and people having involvement in multiple businesses, the custom store is much suitable.
The basic custom store is cost-effective and you have to pay only $299 to buy a basic plan, but the cost of the advanced store is much higher ($499). If you want to build up a ready to make profit fully functional dropshipping store with automatic promotion and other facilities, you have to buy the Alidropship ultimate store, which is pretty expensive ($899). However, if you have an option to redeem a promo code, you can save 10-35% of the total cost.
After building a WordPress dropshipping website using Alidropship plugin or buying a custom store, you have to build up your site as well as reach out to the visitors. This job is not very easy, but some of the Alidropship add ons make things smooth. Social Rabbit plugin for automatic social promotion, Countdown Timer, Recent Sales Pop-up, Google Marchent, Upsell Add on, Facebook Marketing, etc. are some excellent add-ons which are right choice to promote your business proper way, but you have to pay a lot of money for purchasing them. However, if you have a good experience to build up a website you can avoid these plugins.
24×7 customer service is pretty common nowadays and most of the big companies provide this service. If you are building e-commerce by yourself using Alidropship plugin, you need frequent help from the customer service. Without any confusion, they are pretty helpful but they'll assist you only during office hours. If you face a problem on the weekend you have wait for their response till Monday.
Paid advertisement is typically applicable for any e-commerce platform, not only for Alidropshipping. It is highly essential to put advertisements in different search engines and social networks to attract visitors, and you have to pay for it. The total cost of Alidropshipping webstore is much less than a conventional e-commerce store, even if you buy the ultimate custom store, but you have to pay in advertisements a lot to keep selling products.
If you can learn and practice to optimize to search engine, you can save a lot of money in the later stage, because search engine optimization (SEO) will automatically draw the organic traffic to your website, and hence minimum advertisements will to sufficient for promotion.
THIS PLATFORM offers the best training for search engine optimization to draw organic traffic for free of cost (and also provides many other facilities).
There are thousands of sellers within Aliexpress, and you'll get hundreds in your niche. But remember, you have to choose the sellers wisely. A bad seller doesn't provide good service and often delivers wrong or low-quality products which can make your customers unhappy. So, you need to be very careful in choosing Sellers.
Alidropship sellers ratings and reviews are the very nice parameters for choosing the right seller, so before importing a product to your website you must check those parameters very carefully.
Alidropship Products Pricing
Alidropship platform has several products and each product are unique for their prices.
The price of Alidropship plugin for WordPress website is only $89. If you have experience in building a webstore then you should purchase the plugin and build a website by yourself.
In this price, you'll get two plugins together –
Alidropship Plugin: It is for WordPress and Alidropship collaboration. Here all the products and shops parameters get controlled directly by Alidropship.
Alidropship Woo Plugin: This one is for WordPress, Woo-commerce and Alidropship collaboration. If you have a Woo-commerce web store or you wish to build a Woo commerce store with Alidropshipping facility, this one is the right choice for you.
Caution: You cannot install both plugins at a time. Install any of them to build up your website.

3 different plans are available for ready-to-use Alidropship custom store.
Basic store: $299
Advanced store: $499
Ultimate store: $899
Other than these, there are several services and add ons in the different price range.
Check here for Alidropship add ons pricing details.

Click here for Alidropship service pricing details.

Who should choose Alidropship?
Whoever wishes to build an e-commerce store with limited investment and prefer to build up a worldwide business with a hassle-free experience, Alidropship is a perfect choice for them all. Don't worry if you don't have experience in e-commerce and dropshipping, because their custom stores are ready to get sale, and you can make a profit with minimum effort in the initial stage.
People who don't like to make a monthly payment for an online store, they also should choose Alidropship.
if you have the desire to monetize your hobby, you can definitely choose Alidropship to build up a profitable website in your niche in collaboration with Alidropship.
My Final Opinion
If your reply to the question – "What is Alidropship", I guess already mentioned each and every necessary point related to the matter. Now let me summarize the overall fact.
As I said in the above section, if you are really interested to build up a dropshipping web-store for avoiding heavy deals like product storing, packaging, shipping, inventory maintaining, etc., then you can choose Alidropship without any hesitation. In spite of the few negatives of the platform (as I discussed above), I'd suggest you compare the positive points of Alidropship. If you can work hard with full dedication, it is much easier to make an enormous profit with Alidropship web-store. In fact, hundreds of drop shippers are making a sustainable income right from the comfort of home using Alidropship products.
If you are a newcomer in e-commerce, it is better to order a custom web-store to have a hassle-free experience. A custom web-store is relatively expensive, but it helps you to start selling in the initial stage. If you are intended to invest less you can try the basic store and later upgrade it to an advanced or ultimate one. If you wish to have a premium web-store for the day-1 without thinking much about investment, an advanced or ultimate store is the best options for you.
If you are an experienced developer, you can build up your Alidrpshiping webstore by your own effort using Alidropship plugin or Alidropship Woo plugin. In case, you are already piloting an e-commerce business by installing Woo-commerce plugin and wish to include more products in your web-store, Alidropship Woo version is a great option for you. It is simple to install, import and building.
Before finishing this Alidropship products review, I like to deliver a few final suggestions, those are,
About hosting and building a website.
Keyword research tool.
Learning all about SEO for driving traffic in FREE of cost
If you are willing to host your website within Alidroship web hosting facility then it is fine, and you'll experience a smooth experience. But, if you think it is expensive for you, or if you are thinking alternatively, I'd suggest you check out Siterubix website builder which offers you a pretty fast server worldwide and hassle-free experience.
Building a website is not an easy job until you have enough knowledge. Alidropship can provide you a dropshipping web-store, but if you don't have good knowledge to build up a website, your web-store will get failed to earn long term success. Parameters like Niche selections, Keyword selection, search engine optimization (SEO), content creation, proper social promotion, etc. play a vital role in ranking your website and helping in the long term run.
How long and how much can you pay for advertisements? Rather, isn't it better to promote your website for free of cost by optimizing the search engine? Within Alidropship, there are services for SEO, but you have to pay for it hourly basis if you want the service for your web-store. Instead, you can learn these things yourself as I did personally.
I am highly thankful to THIS PLATFORM where I learned all the techniques to promote a website for FREE, and those only lessons helped my web-stores a lot to rank on the first page of Google. I never pay extra money for SEO and I rarely promote my web-stores by paid advertisement, which actually saves my lots of money.
If you get the proper lessons for Keyword research, SEO, content creation, etc., nobody can stop your webstore from ranking in Google as well as driving organic traffic. More the organic search more will be the numbers of natural visitors, and subsequently, less will be the expenditure on advertisements. Additionally, In THIS PLATFORM, you can build up to 50 websites under this platform (as a premium member), get a great helping community, world-class customer support and many more. If you are interested in my ways to build a profitable website, you can sign up through the following link for absolutely FREE.
The last portion is not directly related to the question "What is Alidropship?", but the matters I discussed in the very last paragraphs are passively related to your dropshipping business. If you are looking to make a long term profit from your web-store you must learn the techniques which can save lots of money by avoiding too many advertisements, while getting a regular sell.
That's are Ladies and gentlemen.
If you have any questions, please feel free to ask them by posting the query in the comment box below, or you can contact me through the "Contact Us" link at the main menu.
If you find the article helpful, please share it on social media and share your insight in the comment box below.
Have a Nice Day!